Datasmith deploys multi-brand self-service kiosk for Real Foods at the new kloof street store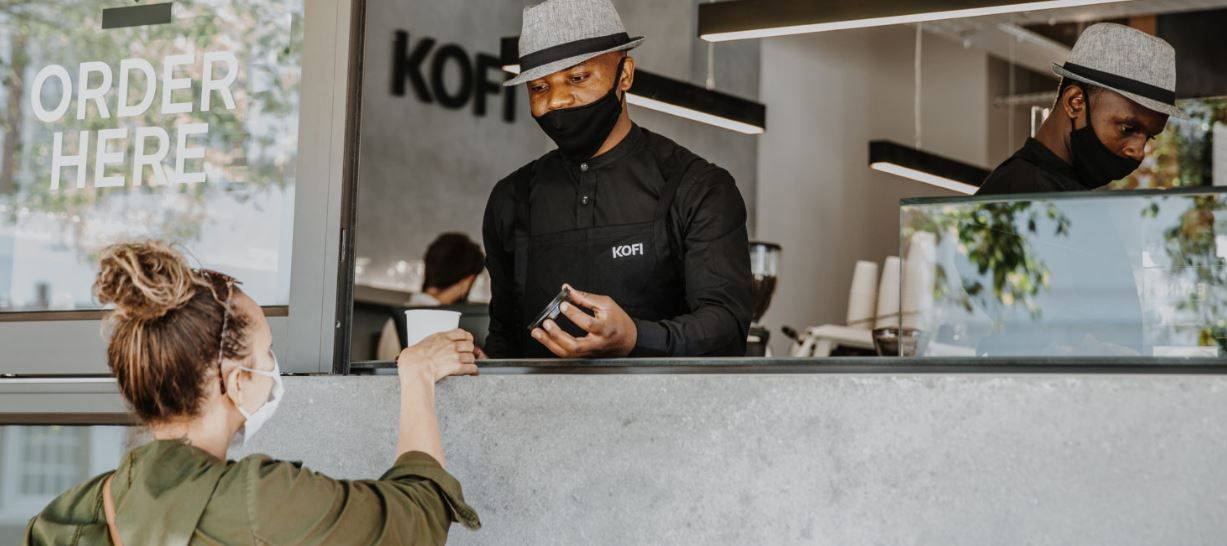 In Cape Town's Kloof Street, brands collaborate to create a fresh Covid-friendly experience where peace of mind is top of mind.

We can all agree 2020 has been quite the year, and it's not over yet, just saying. We've all had to learn to adapt to constantly changing threats, theories, and regulations. Lines have been drawn – and crossed – when it comes to wearing masks; religious and political arguments have been less vehement or passionate.

As time has passed, the restaurant and hospitality industry in South Africa has taken a brutal battering. Now we are in Level 1 of lockdown (which frankly doesn't feel like lockdown at all any more but you should still wear the damn mask; just look at Europe seven months on), many restaurants are trading, albeit under different circumstances; the 1.5 metres between tables rule barely seems adequate, but there you go.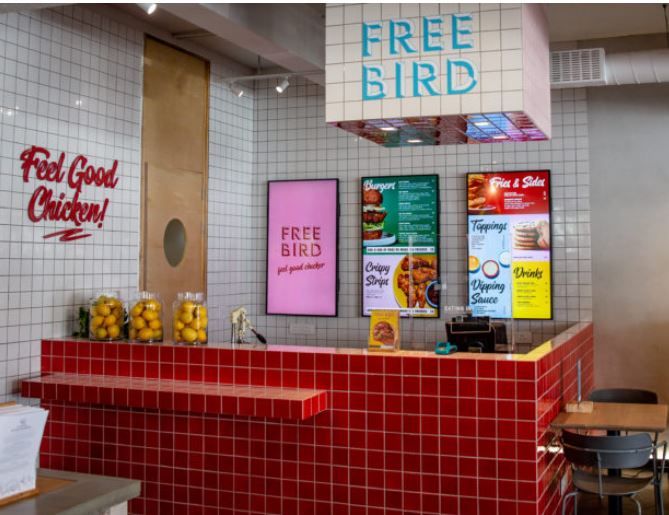 Sanitizing at entrances, having your temperature taken, and filling in the register are all our lives now, or at least they should be. Not every place does this. With most thermometers more often than not insisting my temperature is too low, or sub 35℃ (which is technically hypothermic) I can't help but wonder if the calibration also takes lower readings on those who are perhaps feverish. These are the things to be overthought at 3am.
While all the necessary precautions are being taken in restaurants, my curiosity was piqued when I heard about a new place in the City Bowl which claims to be "Africa's first Covid-designed dining experience". Under the umbrella of Real Foods Group, four casual eating brands – Free Bird, Kofi, Schoon and Nü – are gathered together inside the large corner of the Kloof Street Village development (previously a furniture shop) .

What could this mean? Would there be dining bubbles like we've seen on the internet? As it turns out, no. When I went to check it out, it all looked so … normal. Old normal even. Have we become so used to the way things are now that it's hard to tell the difference?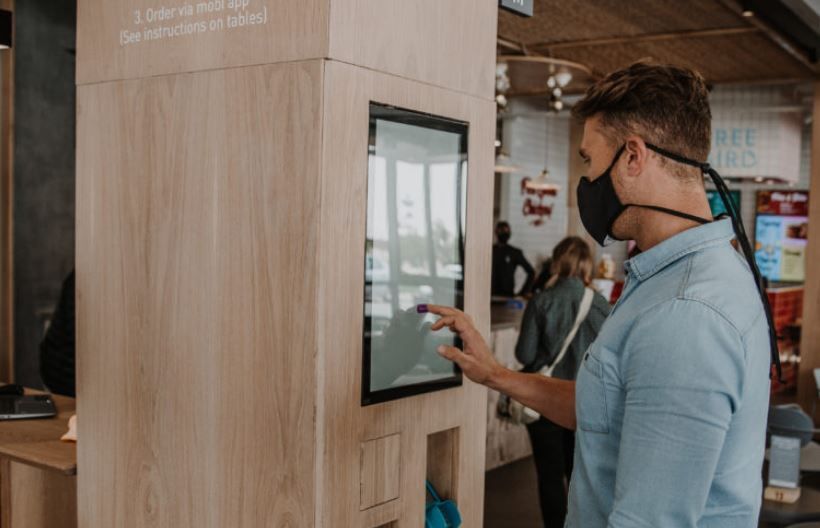 On closer inspection, however, several features become apparent, and it's perhaps to their credit they are not jarring. First of all, almost the entire space has huge, wide open windows. This is for ventilation and to imbue the sense of being outdoors.

The buzzword is "contactless". After entering and doing the sanitiser/temperature thing, you can approach any of the four counters directly to place an order. Clear shields are between you and the staff. If this is still too close for comfort, a kiosk built into a pillar has an easy to navigate touchscreen. Before you shriek in horror, there are hand wipes for you to use before (and after, if you're a decent human who also returns the trolley at the supermarket). There's a card machine to tap, which is all well and good for everyone who hasn't destroyed the chip through the liberal application of sanitiser. I did this so you don't have to.

From there, sit down if you wish, or hang around until your free range chicken burger, smoothie, caffeine or decadent pastry is ready, and it will be placed at the pickup point at the entrance.
Still too much potential contact? Don't even come inside; you can place your orders through two hatches from the street side. And if that's making you skittish, there's a mobi app which you can use through your phone's browser wherever you are.
Dean Kowarski, CEO Real Foods Group, explained the initial vision at the beginning of 2020 was to build a new food hall concept with the four separate brands (Nü Health Food Café, Free Bird, Schoon and Kofi). "We wanted to create a welcoming but slick and convenient dining experience with a range of options for the local community around Kloof Street.

"When Covid-19 hit, we were still committed to this vision, but realised that we would need to radically reimagine the complete restaurant experience to make customers feel safe post Covid-19. As lockdown progressed, we started considering the details that were becoming important to ensure a safe dining environment, like ventilation and air circulation, maintaining physical space between people, using outdoor spaces and using technology to facilitate contactless experiences.
"We had already been working on some of these technology solutions prior to lockdown, but the pandemic gave us a new sense of urgency in bringing them to market. Most of the concept and planning work was possible during lockdown, and as restrictions started to ease, we were able to commence construction to bring the space to life.

"We worked with our architects (Metropolis Design) to space tables further apart, add wraparound fold stack windows for better air circulation, and also added outdoor ordering hatches and an outside seating area.
"Micros and Datasmith developed a new kiosk and mobile app system for contactless ordering – customers can order via the kiosk or the mobile app on their phones, which limits interactions (and therefore physical proximity) with staff. Orders can be placed for sit-down or takeaway, with all takeaway orders dropped at a pickup station located near the door for ease of use."


The mobi app offers a quick and seamless way for customers to order and pay via their phones, limiting interactions (and therefore physical proximity) with staff and other diners (if ordering takeaway). Customers can scan a QR code on the tables that links them to the mobi site, and place an order for any of the four brands online, and then pay online via credit card. Sit-down orders are brought to tables (customers need to enter their table number into the app), and takeaway orders are dropped at the collection unit near the door. Due to be live by today, click here for the app.
The Covid-friendly design was a collaborative effort between four South African architects and designers, continued Kowarski. Award-winning architects Jon Jacobson and Jean-Mari Steyn of Metropolis Design led the project, working alongside Tristan Du Plessis of Studio A (global winner of the 2019 Restaurant & Design Awards), Marco Simal of Simal Studio and interior designer Nina Du Plessis.

"They worked together to create a clean, modern space that flows beautifully, with Covid-safe functions. The challenge was to ensure that each brand still kept its own unique identity, while complementing the overall design," said Kowarski. "This was achieved by having Metropolis oversee the overall layout and planning (as well as the minimalist design for new brand Kofi), with Studio A contributing the natural materials-inspired design for Nü Health Food Café; Simal Studio developed the fun, playful and colourful look and feel for Free Bird, and Nina Du Plessis created Schoon's warm blend of rustic, industrial and minimalist design philosophies."
At the time of writing, the venue had been trading for less than a week, and Kowarski said customers had been very complimentary of the space, and seemed to be enjoying the convenience of having four different options to choose from. "We see a lot of customers arrive in groups, order from different menus and then socialise and enjoy their meal together. What is most exciting to see is that customers genuinely feel comfortable socialising in the space."
Something we've been hearing a great deal this year is that humans are sociable beings. Be that as it may, I must point out "not all humans"; introverts cannot understand all the fuss. But let's go with that flow. "The social distancing required due to Covid-19 has made it more difficult to maintain social connections – we are happy to have been able to design a space that makes it as safe as possible to socialise," said Kowarski.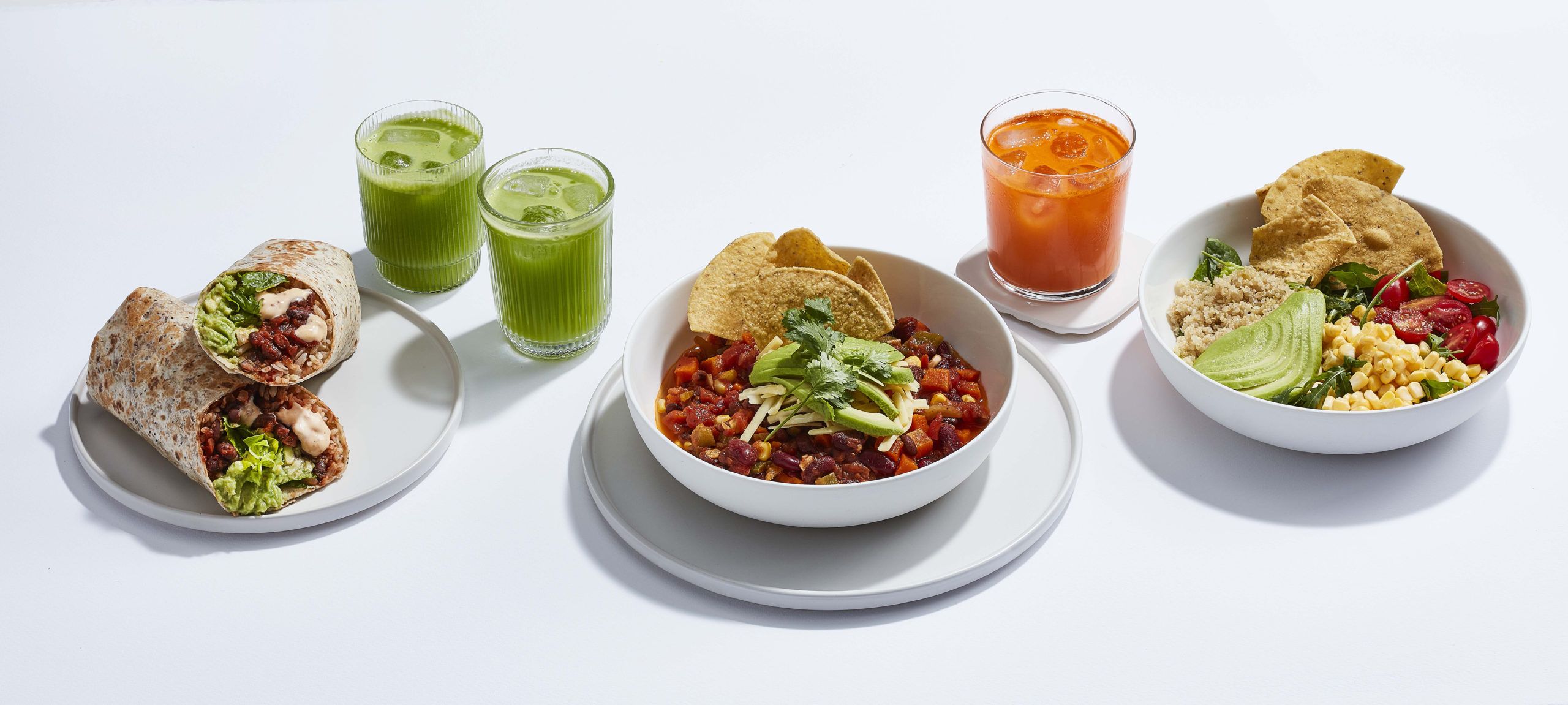 "It seems likely that we will need to continue with Covid-19 safety protocols for the foreseeable future, and with the ever-present concern around a potential second wave, we hope that more restaurants continue to find innovative new ways to keep diners and staff safe."
Besides the innovation and creativity employed here, it's also heartening to see restaurants we thought had gone forever reopening their doors, as well as new ventures rising from the ashes.
"It has been a challenging year for the restaurant industry, but we are optimistic that the sector will rebound over time, and want to make sure that our brands are firmly positioned for this," said Kowarski. "We are also excited to be able to create employment opportunities in an industry hard-hit by layoffs and closures – Kloof Street Village will employ a dedicated team of over 30 staff."
Kowarski founded Real Foods Group in 2013 with the explicit purpose of building a business that is focused on real, whole foods. "The food we eat directly affects our health, and I wanted to build a business around making real, natural food that is free from excessive preservatives and additives, more broadly available.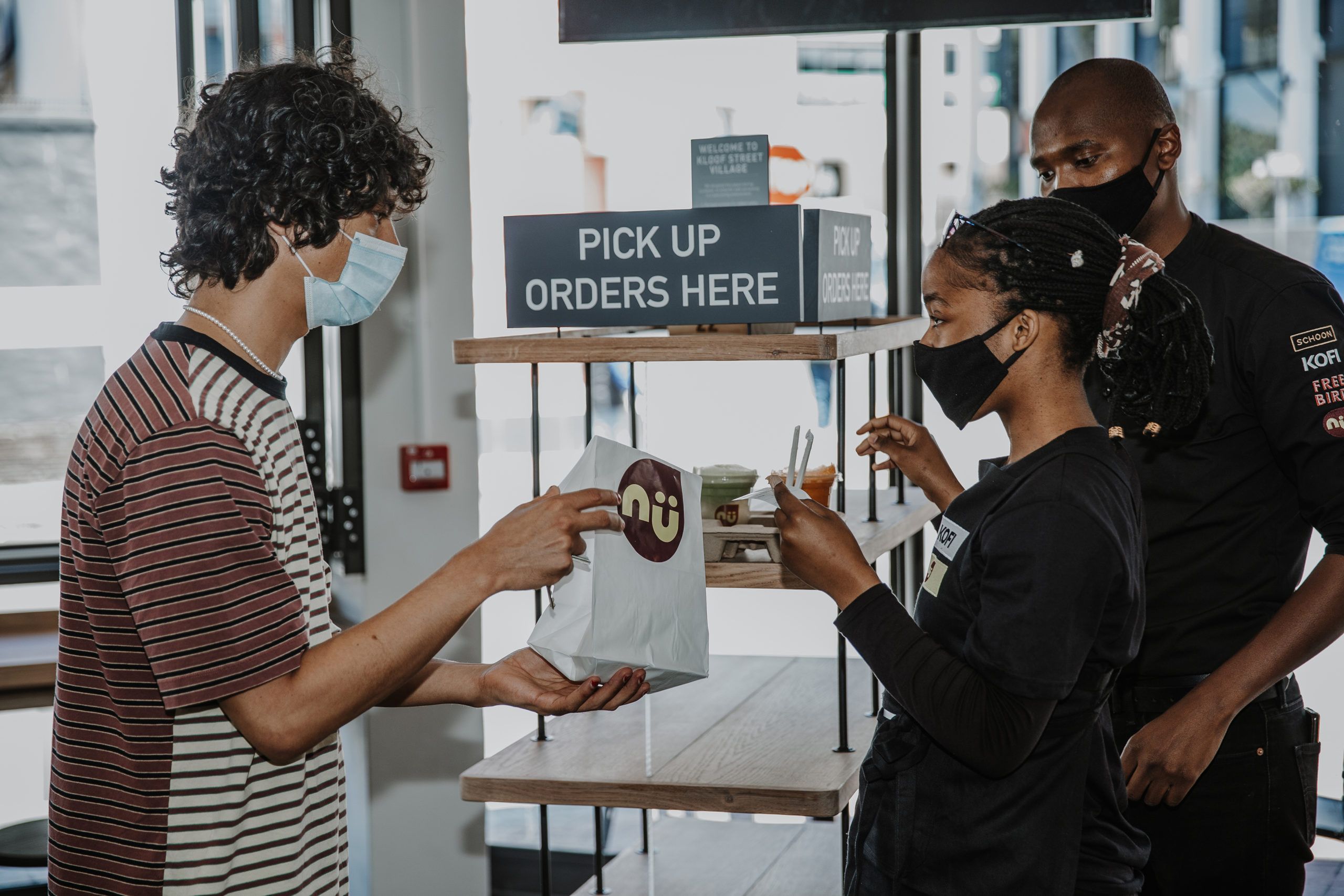 "We have grown significantly over the past seven years, and currently list Kauai, Nü Health Café, Schoon Bakery & Bread Cafés and Free Bird in our restaurant portfolio. We also have stakes in three honey businesses – Highveld Honey, Brother Bees and QBee Honey – as well as Uber Nutrition, a private label snack bar innovation and manufacturing business."

Trading hours are 7 am till 10 pm daily (including public holidays). There is no central website for Kloof Street Village.
You can reference the individual brand sites:
www.nufood.co.za
www.schoon.co.za
www.freebird.co.za
@kofi.from.africa on Instagram (no website as yet)

The brands:

Free Bird – is a new free-range crispy chicken burger concept that re-imagines comfort food for a modern era. It offers a high-quality menu, made with clean, wholesome ingredients that are locally sourced with full traceability – the free-range chicken comes from the Hemel-en-Aarde Valley near Hermanus, the fries are hand-cut daily, handmade buns are from Schoon bakery in Stellenbosch, and condiments like pickled vegetables and authentic kimchi are made in-house using simple, fresh ingredients.



Schoon – bakes artisanal bread and pastries in Stellenbosch, made the traditional way using only 100% South African stoneground flour. The reason Real Foods partnered with Schoon is a shared passion for using natural South African ingredients. Schoon values true, traditional craftsmanship – they build lasting relationships with local farmers who care about quality and craft, and take the same care when hand-shaping and long-fermenting every loaf of bread.

Kofi – (pronounced "coffee") serves great coffee sourced directly from small-scale African coffee farmers, which is then small batch-roasted in Cape Town. Kofi has a meticulous focus on quality from bean, to roasting, to brewing, and is working with SA Barista Champion, Winston Thomas, to further train and upskill its experienced baristas.



Nü– Health Food Café serves up the latest in global health food trends, made with local, responsibly sourced ingredients, in a convenient fast casual environment. Nü leans towards a more plant-based menu of healthy smoothies, freshly pressed juices, salads, wraps and breakfasts. Many of the dishes and smoothies are designed to be vegan, with the option of adding a responsibly sourced protein like free range chicken, locally farmed salmon and pasture-reared Angus steak. DM/TGIFood.